Online shopping has become an integral part of many consumers' lives. The increased volume of parcels shows that this new way of acquiring goods and services and the provision of tracking information is here to stay.
While a lot of packages are successfully delivered, sometimes, they can get misplaced, damaged, and in worst cases, lost. For these reasons, many customers will want to know the exact location and status of the items they ordered to ensure that it will safely arrive in their homes.
Nowadays, it's not enough to partner with a trustworthy courier service. As a business, providing tracking information is a healthy practice that has numerous benefits both for your company and your customers. This might even be the factor that can make you outshine your competitors.
Below are more reasons why you should make this a standard practice:
1. Promotes professionalism and great service
E-commerce business owners know the importance of being highly reputable in the industry. Providing tracking information is one of the best ways you can show this. Customers have high expectations when it comes to shopping, and they will abandon their carts if they think the website is fraudulent.
By displaying your shipping and delivery policies and providing tracking information, prospective buyers will feel more comfortable and associate your company with professionalism and authenticity.
2. Encourages your customers to repurchase from you
Every successful delivery increases the chances that your customers will continue to patronise your business. Data from MetaPack reveals that 96% of consumers will shop again with a retailer who provided them with a great delivery experience, from the checkout page to receipt of the item. A bad experience, on the other hand, will turn off 45% of your consumer base.
Giving customers the freedom to check on their order can be empowering and satisfying for them. This improves their overall shopping experience with you, which they'll remember the next time they think about doing business with you.
3. Sets customer expectations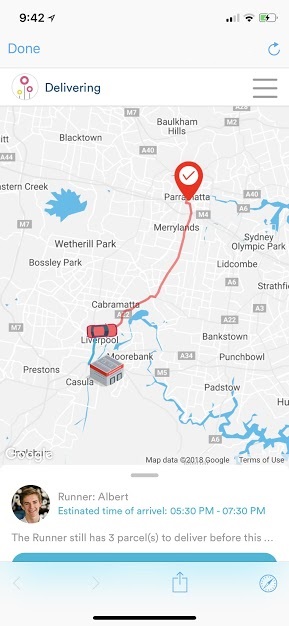 The reality is, your customers are not buying all their essentials from your online store alone. Naturally, they compare the services provided by the different businesses that compete with yours.
No customer should have to deal with not knowing where their package is anymore. Courier service Go People offers GPS tracking that updates customers every five minutes, showing the location of your parcel and the pick-up and drop-off points.
With excellent customer experience at the heart of your business, you're giving yourself a competitive advantage that keeps customers loyal because your competition doesn't provide them with the same calibre of service.
4. Builds trust by being transparent to your customers
Offer your customers peace of mind by letting them know that you duly shipped their item.
Getting scammed online is still a great fear for many online shoppers. Your business always has to put your customers' feelings into consideration because they are providing sensitive information during the checkout process and spending on a product that they are expecting to receive in perfect condition.
Providing tracking information can ease those worries since they will be able to check the exact location of the parcel and be well-informed of delays, should it happen. This speaks volumes about professionalism and creates a great overall customer experience for your buyers.
5. Allows you to engage with your customers
You wouldn't want to leave your customer hanging after they've made a purchase, and they wouldn't like it if you did. 82% of consumers expect retailers to give them delivery information about their orders.
Simply let them know via e-mail and SMS notifications. You can also give them an option to receive notifications every time their parcel changes location. Similarly, you can use this as a courteous way to inform them if there are any delays in the delivery time frame.
For more elaborate instances, Go People allows senders and recipients to leave in-app messages for the runners delivering the package. This feature is helpful for your customer if no one is home to receive the items, and any other special requests either party may have.
6. Reduces customer complaints
Unfortunately, delays in delivery may be inevitable. However, it's a lot more bothersome if your customers don't know what's going on. Whether there is a delay or not, letting your customers know the status of their package will reduce misunderstandings and complaints that may arise while they are waiting for their package to arrive.
Additionally, this will free up your time. Not having to entertain these shipping enquiries will allow your customer service agents to focus on creating a better experience for your customers or escalate high-alert problems faster.
Tracking Information Final Thoughts
Even the littlest things matter when it comes to providing an excellent shopping experience for your customers. Giving out delivery tracking information can make a whole world of a difference to your buyers.
Make sure to choose a reliable courier service that offers real-time tracking services. It's simply better for you, your customers, and everyone else involved.
Tracking information article and permission to publish here provided by Jake Smith at gopeople.com.au. Originally published on Supply Chain Game Changer on December 6, 2018.