Brands don't have to be Amazon to build stellar last mile delivery and fulfillment operations that win new business and drive customer loyalty.
However, they do have to look deeply and honestly at the way they run their delivery operations today, and then take the next step forward by making the necessary changes.
If you think delivery is just about transporting a product to the buyer, think again.
Delivery is the fulfillment of the entire customer experience, a journey that begins with brand awareness, continues with the purchase on- or offline, and culminates in the critical moments when customers wait to receive their order.
Customer expectations regarding the delivery experience have completely changed over the last few years, challenging the way businesses currently operate and relate to their customers.
Across industries and across the world, businesses are discovering new ways to create long-term customer relationships and leverage the delivery process — new revenue streams; new ways for users to interact with and enjoy the product; new ways to upsell and build relationships; and new data points to better understand and optimize both business operations and customer relationships.
This revolution in the supply chain's last mile is driven by something consumers always wanted, but which only recently became possible: convenience shopping. Getting what you want, when you want it was once a privilege available to the wealthy elite, but it is now open to all.
This new, democratic level of shopping convenience is driven by companies around the world. Though sometimes referred to as "The Amazon Effect," it is everywhere around us: from on-demand taxis, to ecommerce fulfillment and last mile delivery, to on-demand streaming.
A large part of Amazon's stunning success is due to the extraordinary experiences it provides its customers, bringing us to the point where it now accounts for one out of every two dollars US consumers spend online. Now, consumers have become accustomed to a new level of fulfillment: convenient delivery options, lower shipping costs, on-demand delivery, and full transparency into the delivery process.
This optimal delivery experience is based on transparency, consistency and convenience, which in turn are made possible by the ecommerce giant's customer-first approach and how it uses technology to service this strategy.
Amazon has succeeded where others have failed by adding a crucial technology layer across all its delivery and fulfillment channels (including Whole Foods), from the first mile to the last, seamlessly syncing, measuring, optimizing and tracking activities across all related systems and partners. The result?
Consumers are now demanding the same optimal experience from each and every brand. For this reason, omnichannel logistics has become one of the greatest business challenges, although it also remains one of the greatest business opportunities.
The delivery disruption presents brands with incredible potential to grow their business, extend their reach and create deeper relationships with their customers. Better deliveries mean that customers enjoy more positive experiences that make them feel valued, experiences which give them new touchpoints for interacting with the brands they love, and which keep them coming back.
Delivery is an essential layer which must be in place within businesses' operations today if brands want to provide this level of experience to their customers. But in order to grow through excellent order fulfillment, businesses must face the logistical challenge of creating a delivery operation that is streamlined, efficient, transparent and customer-centric.
Achieving better customer experiences through successful delivery operations also relies on complete visibility into the status of the order and the inventory at all times, and, of course, the need for perfect delivery execution, whether through the use of in-house fleets, third party fleets or a mix of the two.
"Companies that align themselves with this new reality will remain relevant to their customers, while those that don't will quickly become obsolete.
Get it right, and you can enjoy unprecedented profit margins and growth within your competitive market. Get it wrong, and you run huge risks when it comes to the viability of your business.
In short, brands don't have to be Amazon to build stellar last mile delivery and fulfillment operations that win new business and drive customer loyalty. However, they do have to look deeply and honestly at the way they run their delivery operations today, and then take the next step forward by making the necessary changes.
Revisiting the Challenges of the Offline World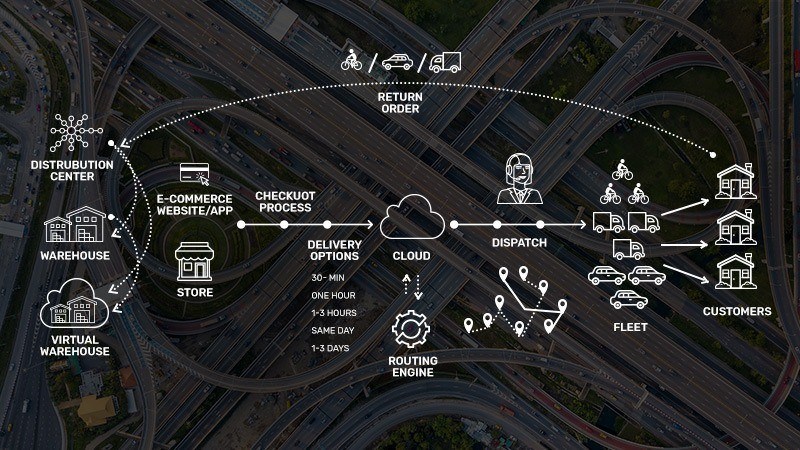 Companies that have previously excelled in their market now find themselves in the new world of omnichannel logistics, and they find themselves in trouble because they have to rapidly learn how to navigate this world. Millions of manufacturers and retailers who know how to manufacture and sell products have already transitioned to the world of ecommerce.
Now, a second, sometimes more complex, revolution in logistics is forcing them to optimize their offline world. That world — the offline world of logistics, warehouses, fulfillment centers, SKUs, shipping, fleets and drivers — is old, inefficient and stubbornly resistant to change.
Introducing innovation to offline logistics is doubly hard when you take into account the inherent complexity of delivery: a world of low margins, retention issues and logistical challenges. Enterprises, whether they provide goods or services, need to manage distribution to millions of homes and businesses, as well as hundreds of stores; run multiple fulfillment or distribution centers across many geographies; and control the customer experience from order through delivery.
Businesses implementing delivery operations will face often conflicting organization and management constraints, as well as the need to align processes and KPIs across all the internal and external functions that are part of the delivery flow. It's only natural that businesses shy away from this complexity and try to grow without it. Yet today's market reality doesn't work in their favor, and instead necessitates that they tackle these challenges head on.
Mastering the connection between online and offline is the great test for brands in all industries. Online retail and online purchasing have moved forward and digitized as far as they could without requiring similar disruptive changes in the offline world, but if businesses want to compete in the age of Amazon, that has to immediately change.
Last Mile Delivery and the Amazon Effect: Solutions for Today
Many businesses have already recognized the need for change, and multiple sectors have followed up by offering solutions to help them adapt to the new delivery environment. On the one hand, however incredibly innovative the technology solutions may be, there's a fundamental disconnect between most members of the tech world and the world of logistics, delivery and selling. Simply put, tech people don't understand delivery pains.
On the other hand, you have logistics professionals offering solutions that accurately recognize the biggest delivery pains, but they underestimate how much of the problem can be solved through technology. These solutions tend to tick one or two delivery boxes, but do not provide a comprehensive enough solution to be worth their cost in the long run.
A third option, as more and more businesses are realizing, is a combination of the two — highly innovative end-to-end solutions that are developed by people who understand both technology and logistics. These orchestration solutions not only target present pain points, but are also forward-looking enough that they can grow alongside the business's delivery operations. These technologies are built for omnichannel fulfillment, helping create profitable operations whether a company sells items online, receives orders in store or provides in-home services.
"By straddling the old and new worlds — logistics and supply chain, software and agility, offline and online — these solutions can be applicable for businesses no matter how far they need to scale their delivery operations, or how much they grow their revenues.
These technologies are available today, helping companies meet the challenges created by their customers' ever-rising delivery expectations while allowing them to make the most of the new business opportunities created by the same market changes.
With the right strategy, coupled with a smart technology-powered delivery and fulfillment platform, companies can digitize offline operations and relationships; optimize back-end operations to achieve greater efficiencies across the entire delivery ecosystem; and offer customers a seamless and transparent experience, all while growing their profit margins.
Age of Amazon article and permission to publish here provided by Raanan Cohen at bringg.com. Originally published on Supply Chain Game Changer on June 5, 2019.