Successful eCommerce businesses all have one thing in common: terrific eCommerce fulfillment.
You might have the best product in the world. Your website is epic. And your sales funnel slides your customers easily to the checkout.
If your eCommerce fulfillment doesn't run smoothly, however, your web-based business will be all splash and no cash.
ECommerce fulfillment may not be the thing that gets you excited about your online business. However, it is a crucial element of your success in online retail.
A 2018 study found that free shipping was the number one feature for online shoppers. It influenced 83 percent of online shoppers to buy. In addition, shipping costs are a major factor in shopping cart abandonment. In the study, 54 percent of respondents say they halted an order due to the high price of fulfillment. Speed matters also: 25 percent stopped orders when shipping was too slow.
Predictable and accurate fulfillment equals happy customers and positive reviews. Robust eCommerce fulfillment processes can save you time and money. In addition, well-run fulfillment will help you expand your business.
A successful eCommerce fulfillment process involves multiple vendors and schedules. These should line up to run like a well-oiled machine. The better you manage all these moving pieces, the greater your eCommerce success.
What is eCommerce fulfillment?
In truth, e-Commerce fulfillment has been an integral part of your business from the start. When you were packing boxes in your garage, you were your own fulfillment provider. Now that your business has grown, you may outsource your fulfillment to a third-party logistics (3PL) service.
E-Commerce fulfillment is the part of your eCommerce operation that delivers your products to customers. Your e-fulfillment processes include several things. Getting product onto fulfillment center shelves is e-Commerce fulfillment. Picking and packing orders is order fulfillment. Shipping times and methods are part of your third-party logistics operations.
What's involved in the eCommerce fulfillment process?
Fulfillment involves more than picking and packing orders. The best eCommerce fulfillment providers will help your online retail business run seamlessly.
Think of your third-party eCommerce fulfillment provider as an extension of your business. Outsourcing your fulfillment makes your business agile. You can expand and contract warehouse space as your business needs change. Outsourcing lets you minimize your expense and risk.
There are four basic components of the e-fulfillment process:
ECommerce store and fulfillment center integration
Receiving and inventory management
Order fulfillment
Returns processing
Below, we discuss each component. By the end, you will understand what eCommerce fulfillment can offer your company. You'll be ready to take advantage of the power of outsourced fulfillment.
How does eCommerce fulfillment work?
Fulfillment is the lynchpin of your eCommerce operations. When you understand each of the steps in the process, therefore, you'll be better able to manage your outsourced eCommerce fulfillment provider.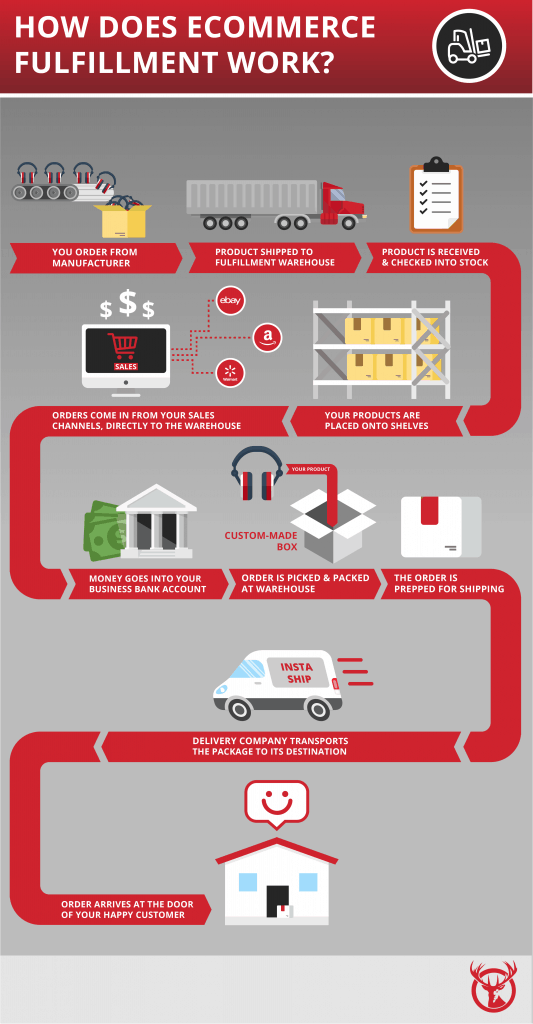 1. Omnichannel Fulfillment Center Integration
When you think of a fulfillment warehouse, you might imagine rows of shelves filled with products. At its core, however, every good order fulfillment center is a technology company.
Your eCommerce store should integrate seamlessly with your fulfillment center. Your orders should flow directly to the people who will pack and ship them. Here are three important features of a good eCommerce fulfillment center:
Your 3PL company should integrate with every platform on which you sell. Your fulfillment center should create a custom app to connect incoming orders for any sales channels it doesn't support.
The IT staff is just as important as the people who pack and ship your orders. Make sure your fulfillment provider has a robust IT department.
Look for a fulfillment center with minimal downtime. In addition, look for responsive support to help smooth any glitches quickly.
2. Receiving and Inventory Management
Pallets of your merchandise ship to your fulfillment warehouse. Then, those pallets get logged into inventory and placed on shelves, ready to fill your orders.
Receiving is the spot where many fulfillment warehouses fall short. When pallets sit on a loading dock, your products aren't in inventory. Of course, no inventory means no sales. This, as you may have guessed, is bad.
Another inventory management challenge is shrinkage. Shrinkage is a nice way of saying "loss, theft, and breakage." Most e-fulfillment centers have an allowance for shrinkage in their contracts. This means that you will eat the cost of the lost merchandise, up to a certain amount. In general, shrinkage allowances range from 2 to 10 percent of your warehoused inventory.
Look for these three qualities in your order fulfillment provider:
Your eCommerce fulfillment center should place your stock into inventory within one to two days of receiving it.
You should be able to log into your inventory management system. This real-time data is critical for maintaining Goldilocks stock levels. That is, not too much (which ties up all your capital in inventory). And not too little (which puts you at risk of running out before you can restock — a good way to lose sales).
Your 3PL provider should have a low shrinkage allowance. Some fulfillment centers make inventory management a top priority. These providers are responsible for items lost or broken while on the shelves. In this case, you don't have to account for shrinkage when you calculate ideal stock levels.
3. Order Fulfillment: Pick, Pack, and Ship
When an order comes in, your fulfillment warehouse will pick the right items to put in the box. A floor worker will pack them in the perfect box. Your 3PL provider will ship them to your customer. This is the pick, pack, and ship process.
With centrally-located fulfillment warehouses, shipping to your customers is speedy. (See more on warehouse location below.) It's important that the 3PL provider turn your orders around quickly, too. Otherwise, you will lose the benefit of that shorter shipping time.
Accuracy is vital. Mistakes in picking and packing orders can cost you customers.
Here are three ways your eCommerce fulfillment center can help you meet customer expectations for fast and low-cost shipping:
Look for a 3PL provider that offers next-day turnaround, or even same-day shipping.
Choose a fulfillment warehouse, or warehouses, that are centrally-located. The fulfillment center should ship to most of your customers within two days or less.
Ask for data on the fulfillment center error rates.
4. Returns Processing: Reverse Logistics
You can't avoid eCommerce returns. Ease of returns is important to eCommerce shoppers. This can be a major factor to drive your sales. Logging in returns is an important function of eCommerce fulfillment.
The more quickly your fulfillment provider processes returns, the more quickly your customer will get a refund. Efficient returns also get your stock back on the shelf so it's available to sell again.
Here are three ways your eCommerce fulfillment partner can make returns a breeze for you and your customers:
Find a warehouse that will put returns back on the shelf within one to two days. Returns that sit on receiving docks are a drag on your business and consumer confidence.
Let your 3PL provider handle customer service for returns, so you can focus on increasing your sales.
Create a process for handling damaged goods. Consider setting up a secondary site to sell returned merchandise at a discount. Make sure your eCommerce fulfillment provider can help evaluate returns and process orders for discount goods.
How is 3PL different from drop shipping?
The term drop shipping gets confused with traditional eCommerce fulfillment. However, these two models of getting products to your customers are very different.
What is a third-party fulfillment service?
The terms 3PL, eCommerce fulfillment, and order fulfillment refer to traditional fulfillment.
Here's how eCommerce fulfillment works:
You purchase or manufacture products to sell online.
Before you start selling your products online, you pay up front for the merchandise.
You ship your stock to a third-party fulfillment service.
When a customer places an order, your fulfillment center ships it to the customer. The fulfillment center pulls the order from your pre-purchased inventory.
All the money from your order flows into your business.
Your profit is the difference between the sale price and your wholesale costs plus overhead.
What is drop shipping?
Drop shipping allows you to sell products with less investment at the beginning. The trade-off for this reduced risk is less control over the fulfillment process. In addition, your profits on each sale will be lower.
Here's how drop shipping works:
You place items from a manufacturer in your online store. You don't buy inventory.
When you receive an order, you relay it to the manufacturer.
The manufacturer ships orders directly to your customers. You never own the merchandise you sell. This is the essence of drop shipping.
You split the profits with the manufacturer. Your cut is less when you drop ship than when you maintain your own inventory.
Should you outsource your eCommerce fulfillment?
Perhaps your orders are flat, and you have a solid in-house order fulfillment process. In that case, you might not need to outsource your eCommerce fulfillment. As your business expands, however, the in-house solution can become a drag on your growth. Outsourcing your fulfillment can be an economical way to support the expansion of your online store.
Some advantages of outsourcing your eCommerce fulfillment include:
Flexible shelf space that can scale up quickly as you grow.
Your orders will be picked and packed by trained professionals who specialize in order fulfillment.
Your resources are freed up to pursue business development.
You aren't stuck with a lease for expensive space you might not need.
You can choose a centrally-located fulfillment warehouse that's able to ship orders to your customers more quickly.
How to find the best eCommerce fulfillment service for your online store
ECommerce fulfillment isn't one-size-fits-all. There are a number of factors to consider when you choose a 3PL provider. Choosing a fulfillment center that has great service isn't enough. You need a partner that specializes in shipping the kinds of products you sell and is located close to your customers.
Fulfillment center location
There's an old saying that only three things matter in real estate: location, location, location. The same is true of e-fulfillment services.
Your home base for your business may be tucked into a remote corner of the country, but your inventory should be centrally located. Ideally, you should be able to ship to most consumers within two business days.
"Shipping times of seven days or more may be acceptable for boutique or niche eCommerce companies. If you're selling on one of the big platforms, such as Amazon or eBay or competing with those platforms, however, fast delivery is a must." See our article on Choosing the Location of Your Fulfillment Warehouse for more information.
When you aim for national distribution, one warehouse location is probably not going to be enough. You'll need two or more fulfillment centers to get close to your customers. Try a bicoastal eCommerce fulfillment strategy with centrally-placed fulfillment centers. This can get your orders delivered to most of the contiguous 48 states in two days or less.
The other benefit of well-placed fulfillment centers is lower shipping costs. Most carriers calculate shipping based on zones. The farther an order has to travel, the more zones it crosses and the more expensive it is to ship.
High shipping costs are one of the top reasons for eCommerce shopping cart abandonment. Fast, cheap (or free) shipping is critical to eCommerce success. Analyze your sales trends before you choose a 3PL company. Review the zone chart of the warehouses you're considering. Make sure that you get the coverage you need from your 3PL provider.
Fulfillment center specialization
Even among the best eCommerce fulfillment providers, there are differences in core competencies. One might be a great match for your business and another a total mismatch.
The size and shape of your products is key to determining your fit with a fulfillment warehouse. If your merchandise presents any shipping challenges, you need a 3PL provider with expertise in those challenges.
Choose a fulfillment center with experience delivering similar merchandise safely and economically. This is particularly important if your products are large, heavy, or fragile.
Red Stag, for example, specializes in shipping heavy and bulky items. We understand how to pack bigger products, so they arrive safely. And we use strategies to ship large items with the lowest DIM weight, so we save you money. If your orders weigh less than 1 pound, look for a provider who specializes in small shipments.
Fulfillment center turnaround time
Amazon Prime has made free two-day delivery an industry standard. You don't have to sell on Amazon to compete, though. All you need is a great fulfillment warehouse that can turn your orders around quickly.
Find an eCommerce fulfillment center that offers same-day shipping. When your orders leave the warehouse quickly, they get to your customers faster. Your business will grow faster if you can deliver the speed that eCommerce shoppers demand.
Fulfillment center customer support
There are two aspects of eCommerce fulfillment customer support. You want to find a fulfillment center that responds quickly to your questions and requests. In addition, your 3PL provider should be able to support your end customers.
Look for services that give you your own dashboard, so you can track your order fulfillment in real time. Ask for support for customer requests. When it comes to customer service, transparency is key. If your customers can track their own packages, you'll have fewer customer service calls.
Evaluating order fulfillment services: questions to ask
You're the boss of your eCommerce fulfillment center. It's okay to ask a lot of questions to make sure you choose the 3PL fulfillment provider that best fits your business. That said, it's not always easy to know what questions to ask. To ensure you find the right fulfillment service for your company, here are some questions to get you started:
Picking and packing questions
What types of products do you ship? If your products are large or heavy, you need a fulfillment warehouse that specializes in large and heavy items. They will be able to give you the best advice on how to properly pack and ship your products. On the other hand, small products won't get the best handling in a fulfillment center full of bulky items. The same can be true for hazardous materials or fragile merchandise. Find a fulfillment center that specializes in the types of goods you sell. This will save you money on packaging and shipping.
What value-added services do you offer? A warehouse that can kit your merchandise can add value to your eCommerce business. ECommerce fulfillment services can include custom lettering or just-in-time assembly.
What are your customer service practices? Your e-fulfillment company can take much of the customer service burden off your shoulders. Make sure it has systems in place to respond quickly to customer inquiries.
Fulfillment cost questions
What is the charge for setting up my account and integrating my sales platforms? The right answer to the question is free. Ask about all the charges relating to your account from beginning to end. Hidden fees can turn a reasonable quoted price for fulfillment services into a business-killing expense.
Who pays for fulfillment mistakes? What kind of guarantees does the fulfillment center offer if they pack or ship an order incorrectly? Will they waive the fulfillment and shipping fees when they make a mistake? A guarantee like this is a sign of a high-quality e-fulfillment provider — one that doesn't make many mistakes.
What is your policy on inventory shrinkage? Find out the shrinkage allowance up front. A top-notch eCommerce fulfillment warehouse will guarantee your inventory. This will protect you from the costs of inventory shrinkage and damage
Shipping cost questions
Do you offer shipping discounts? Because 3PL providers are volume shippers, they may qualify for discounted shipping rates from major freight companies. Make sure this discount gets passed to you.
Do you offer international shipping? Even if you sell only to domestic customers now, why limit your future? The growth potential of eCommerce is worldwide sales. Choose an e-fulfillment provider that can help take your online store to the next level.
What is your system for shipment tracking? Make sure that shipment notifications go directly to your customers and to you. Notifications should include tracking numbers. That way, you and your customers can follow shipments and troubleshoot when needed.
How fast can you ship my orders? Find out what percentage of the country the fulfillment provider can ship to in two days or less. You'll want to reach at least 70 percent of the country within that time frame. Two-day shipping via ground will keep your customers happy. Ask about order turnaround as well. Can they ship same-day on orders received by a certain cutoff? This is an important asset to help you grow your eCommerce business.
What are your customer service practices? Your e-fulfillment company can take much of the customer service burden off your shoulders. Make sure it has systems in place to respond quickly to customer inquiries.
Technology questions
Does your warehouse have backup power? People in other parts of the country still expect their orders to arrive on time. They don't care if your fulfillment center is hit by a blizzard. A power outage is not their problem. Ask how recently they have tested their backup systems. A generator that doesn't work won't help you when extreme weather hits.
What inventory management and inventory control services do you offer? To avoid shrinkage, look for a fulfillment center that provides continuous inventory management. This is more accurate than spot-check inventories.
Do you have ISP backups in place? The power may be on, but an internet outage can take a warehouse out of service. If your orders aren't transmitted from your eCommerce sales channels, they can't get shipped. Make sure your e-fulfillment services provider uses more than one ISP. That way, its internet service will be uninterrupted.
What are your security procedures? This relates to both internet security and the physical security of your merchandise. Find out what controls the 3PL provider places on access to sensitive and proprietary information. They should also conduct background checks on employees. In addition, they should use security cameras to prevent theft.
ECommerce fulfillment reviews
There are numerous reviews online that compare eCommerce fulfillment companies. To choose from the top-rated 3PL providers, remember to match the service expertise to your needs.
Check out these websites to help narrow your search. This will identify your shortlist of eCommerce fulfillment providers who can help your business grow:
BBB.org (look up your shortlisted candidates here)
ECommerce fulfillment reviews can help you narrow down your list, but they are no substitute for doing your homework. Ask the companies you're considering for detailed information. Review the services they offer and their security practices.
How will eCommerce fulfillment contribute to your success?
Inefficient eCommerce fulfillment can slow the growth of your business. Poorly packed boxes, shipment errors, and delays can lead to dissatisfied customers and bad reviews.
Now you have a solid grounding in the basics of the order fulfillment process. So, you are ready to evaluate potential 3PL providers. It's a good idea to answer these questions about what you need from your eCommerce fulfillment center. Then find a partner who will help your eCommerce business thrive.
Fulfillment is a core component of your eCommerce success. It may be a challenge to assess your fulfillment center in detail, but just do it. You'll thank us later.
ECommerce fulfillment article and permission to publish here provided by Jake Rheude at Red Stag Fulfillment. Originally published on Supply Chain Game Changer on April 11, 2019.