The concept of the "control tower" is increasingly becoming widespread in Supply Chain Management, and Control Tower technologies are a popular topic right within the supply chain community. Every research firm and vendor has their own definition, but all share the common theme of visibility.
A supply chain control tower system is an attempt to make the outside supply chain environment visible to the enterprise, with "end-to-end" visibility being the Holy Grail.
A traditional control tower provides visibility to immediate trading partners only. The advanced, intelligent control tower is a hub for visibility, decision-making, and action, based on real-time analytics which monitor, manage, and control decisions and execution across functions and across companies to optimize the entire network.
In last-mile delivery, there are challenges that businesses need to overcome like lack of visibility, allocation of drivers and speed as well as inefficiency. This means that companies will not only have to incorporate new technology, but also adopt new strategies so they don't risk becoming irrelevant in this competitive market.
By creating an ecosystem which focuses on transparency, companies can have visibility into the order to reduce the risk of potential issues as well as gain data on how to better manage orders.
The Intelligent Control Tower uses AI (Artificial Intelligence) and serves as a system of engagement across trading partners, and orchestrates companies, people and things to work together in real-time to serve the end consumer.
Until recently, supply chain control towers have been all about providing visibility to your immediate trading partners. But with the development of multi-party, consumer-driven networks, advanced control towers now provide real-time visibility, collaboration and powerful AI capabilities to move beyond decision-support to decision-making and autonomous control.
Challenges & Capabilities
Complexity:
Today's supply chains have become incredibly complicated. A recent Gartner survey found that 85 percent of respondents felt that supply chain complexity is a significant and growing challenge for their operations.
In today's globalized, outsourced supply chain era no single company owns more than a small slice of the fulfillment process, which in general has allowed companies to reduce costs. The problem is that the supply chain management systems were not designed to see and manage anything beyond the four walls of a single enterprise, and the result is increasing amounts of risk in their extended supply chain. So, control towers are an attempt to combat it with visibility.
Some of the most common flaws of supply chain control towers…:
There's "end-to-end" visibility, the primary benefit they are supposed to provide. The truth is that control towers offer a very limited form of visibility, emphasizing visibility into one part of the chain at the expense of another. At best, this means visibility across some of their internal departments and some immediate trading partners.
That's why control towers create visibility by crudely stitching together multiple applications together with one-off connections between trading partners that aren't reusable, a time- and resource-intensive process.
Control towers also require a lot of manual processes and large teams of people to operate—meaning that at best the response time between detecting a discrepancy and taking corrective action will be as long as a full week, and more likely several weeks or a month.
This is because the control tower does nothing to change the fact that your enterprise is still using separate systems for planning and execution. So even when a control tower provides an alert about an issue somewhere else in the chain, a human planner is still needed to evaluate the alert, translate its effect on the strategic, operating and execution plans, and determine the optimal response.
Capabilities:
Control towers offer considerable capabilities, from end-to-end visibility to advanced automation. Here are some of the key capabilities to look for in a control tower solution:
End-to-end Visibility – visibility across supply chain partners, including suppliers, contract manufacturers, transportation carriers, third-party logistics
Real-time tracking through collaborative information sharing – share information and collaborate in real-time
Early warning alerts and exception management – resolve supply chain disruptions before they disrupt your business
Predictive and prescriptive decision-support – using predictive and prescriptive analytics
Autonomous decision-making and control – take the robot out of the human and boost productivity
Cognitive – the self-correcting supply chain with decision-making and machine learning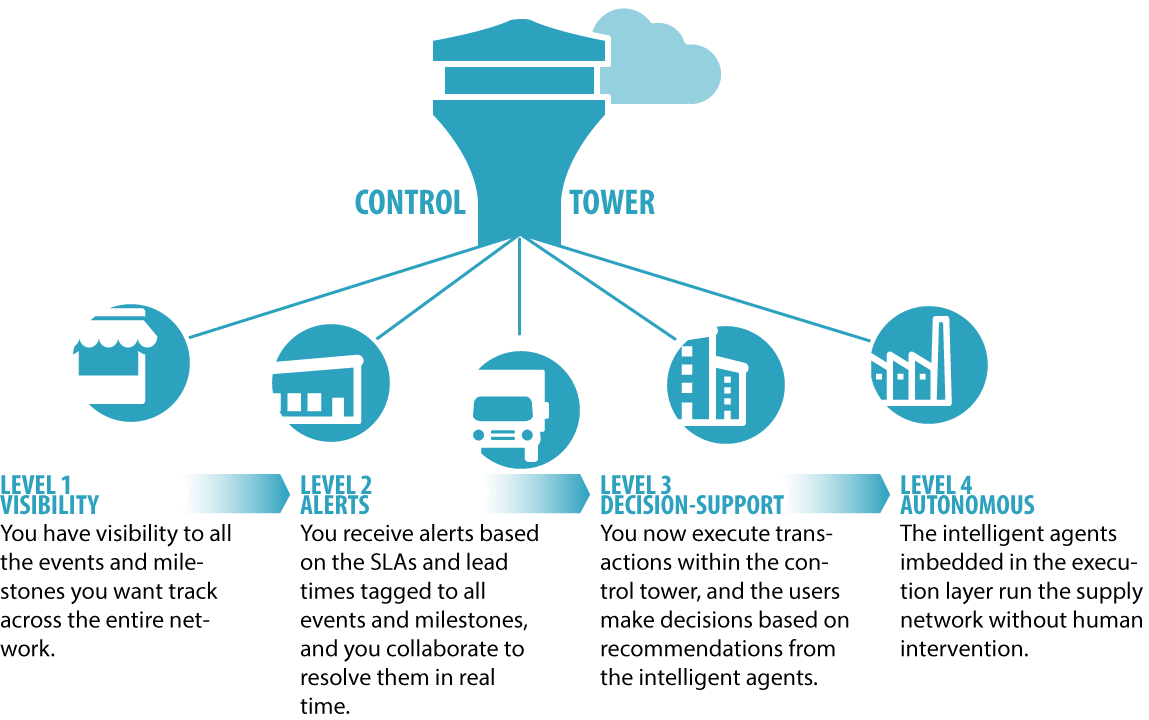 Image Source: Slideshare
Advantages of the Supply Chain Control Tower
Order fulfillment – Easy to configure, flexible, secure and reliable order data integration – reducing cost to serve
Transport management – Planned and optimized shipments and streamlined communication between all parties
Inventory management – Reduction in shortages/stock-outs & Improved warehouse and transport inventory
Visibility & monitoring – Real-time, fully supply chain transparency for improved service levels and traceability
Freight settlement – reduction in expediting costs with accurate & reliable management of billing, audit and payment activities
Request & deviation management – Increase in on-time shipments & Maximized service levels through request tracking and incident handling
Conclusion
The demands of business and the advancements in technology provide both the need for, and the ability to deliver, a Digital Supply Chain. To make that end to end Supply Chain work real Control Tower applications are required. With a Control Tower enabled by full visibility across the entire supply chain there is an opportunity for more efficient management and decision making then ever before. This is an exciting capability that should be a part of everyone's Supply Chain strategy.
Supply Chain Control Tower article and permission to publish here provided by Jenis Sheth. Originally published on Supply Chain Game Changer on April 19, 2018.