Subscribe Here!
Digital opportunity article originally published by, and permission to publish here provided by bringg.com.
Third-party logistics (or 3PL) providers, are standing on the brink of breakout growth. The shipper ecosystem is burgeoning with more delivery orders, more inventory to be managed, more deliveries and more services than ever before.
The global 3PL market, valued at $728.6B USD back in 2018, is expected to reach $1.5 BILLION by 2025. While 3PL providers want to adapt to this new market opportunity, their existing logistics operations often have a hard time keeping pace with these growing demands.
In this increasingly challenging environment, technology has become an integral part of expanding and maintaining competitive logistics services.
The industry giants are capitalizing on this digital opportunity, with FedEx, DHL and UPS investing in supply chain technology and autonomous delivery services that enable more, faster, and more efficient delivery options for customers.
3PLs and Logistics Operations – What's Changed?
In order to successfully provide the services that both shippers and consignees expect, 3PL providers must first understand what is driving the rapid growth in delivery volume, the skyrocketing demand for specialized delivery offerings and the new competitive environment.
eCommerce creates increasingly demanding requirements
The demand for premium delivery services is booming – but so are the expectations around it. Amazon and other eCommerce giants know the location of each piece of inventory item is and exactly where every order is across every delivery flow, giving them the necessary data and insights on their supply chain to accurately offer cheap or even free same and next-day delivery, with the assurance that they can deliver on their promises. As a result, end-consumers now expect faster, less expensive deliveries.
Given the expectations around speed, convenience and cost, shippers and 3PLs that service them should focus on improving these delivery factors while maintaining the related logistics costs to a minimum.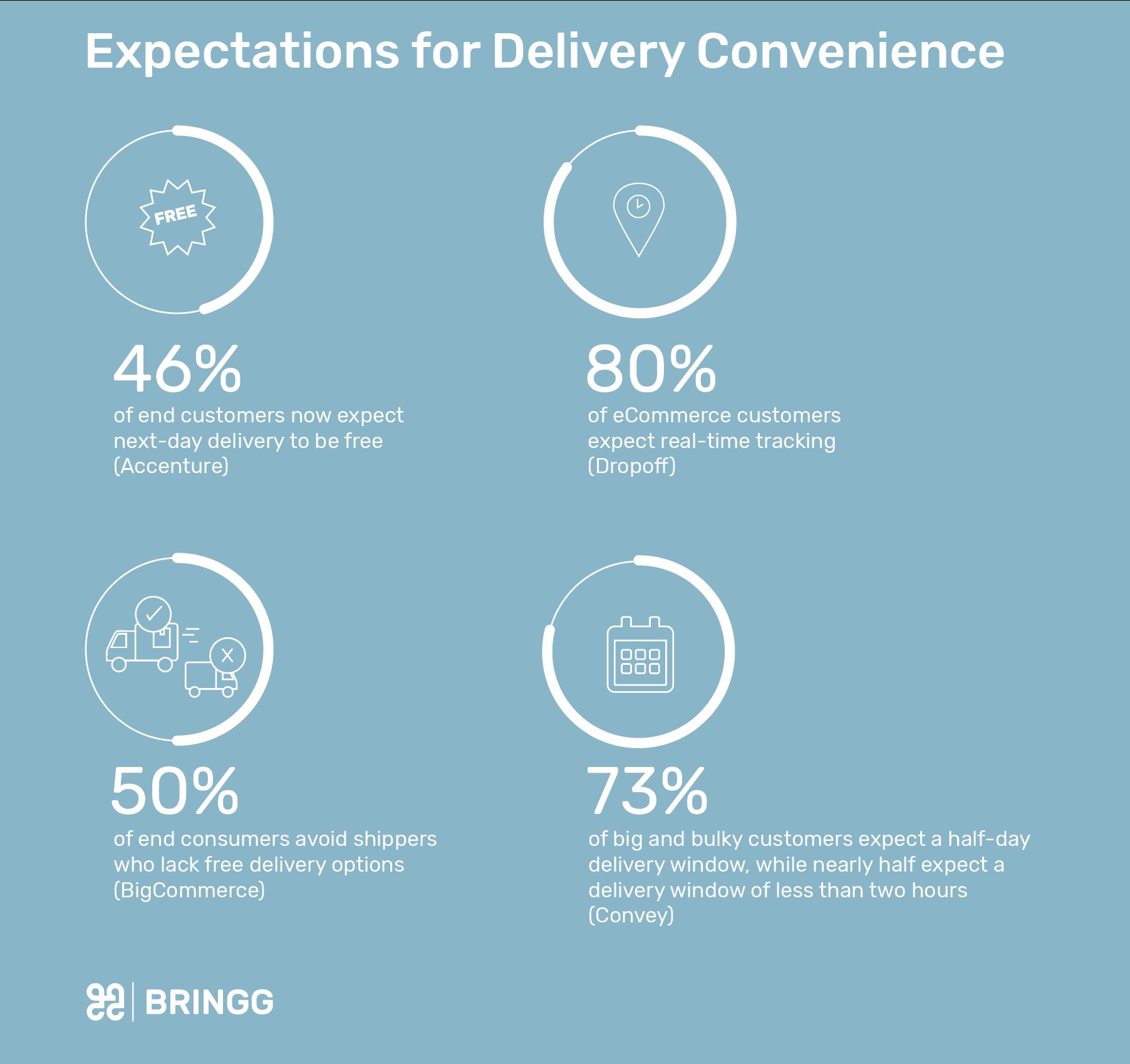 The incentive for change is simple: consignees will go to the shipper that offers better delivery options. According to Metapack, 70% of US consumers have purchased goods from one store over another because of better delivery options, as would 58% of consumers overall.
With the right strategy and processes in place, 3PLs are uniquely suited to empower shippers in this highly competitive market.
B2B consignees expect B2C delivery experiences
Innovators in the commoditized and competitive world of B2C parcel eCommerce made next-day delivery, short and convenient delivery windows, real-time tracking and other premium services the new standard. Now, people ordering deliveries for their business expect experiences and services that are on par with – if not better than – those in their B2C lives. This creates an imbalance between expectations for delivery, and the time needed to build and fine-tune the operations supporting them.
94% of people making business purchases expect the same customer experience as when they make personal purchases. – Project 44
Urbanization brings new logistical challenges for 3PLs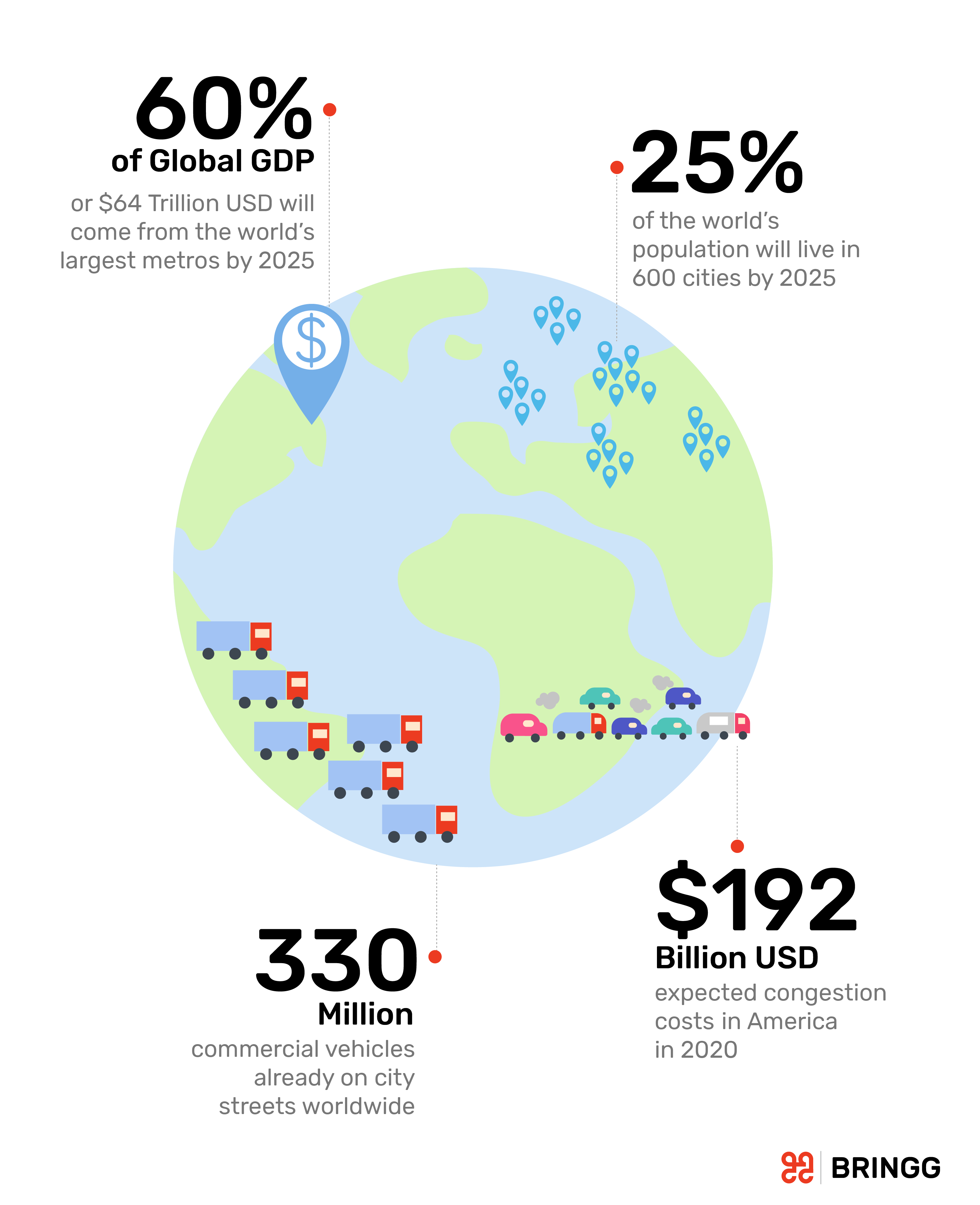 Most logistical operations and fleets were built to manage long-distance deliveries via large commercial vehicles. Rising urbanization has changed the rules, with deliveries increasingly made in urban areas that necessitate different methods of transportation and logistics operations. These changes also require that delivery providers take new criteria into consideration, including traffic congestion, narrow streets, parking availability and more dropoffs per route.
Similarly, whereas 3PLs once primarily delivered from centralized warehouses, they are now being challenged with delivering from local fulfillment centers and even retail locations, which require entirely different logistical considerations. These hyper-local middle mile and last mile deliveries require a different approach than that traditionally used in long-haul logistics.
To successfully offer services in urban environments, carriers and 3PLs must make significant adjustments to the way they deliver today.
Shippers rely on 3PLs to meet delivery expectations (for fast, convenient delivery)
Shippers are increasingly turning to their 3PL providers for the capabilities needed to meet delivery expectations. According to Korn Ferry's 2019 logistics report, an overwhelming 93% of shippers believe 3PL IT capabilities are a very important factor in success – but only half are satisfied with those capabilities.
It's a simple equation: Consignees expect more, shippers feel the pressure to serve them, and transfer that pressure to 3PLs, who are rushing to capitalize on this demand.
Now more than ever, logistics providers should adapt their operations and technology in order to maintain a competitive place in the market.
The Digital Opportunity
What exactly does digital logistics mean for 3PLs?
Stand out with faster, on-demand and shorter planned deliveries – Faster delivery can mean same day, next day, or two-day, depending on your current SLAs and local industry standards. But on-demand goes beyond speed and includes other elements that shippers and consignees are looking for, like flexibility around dropoff points, as well as more, shorter, and more accurate delivery windows.
Expand Your Logistical Services – Do you offer deliveries that pass the consignee threshold? Do you offer services or installations with your deliveries? If not, it's a good time to start. The same goes for improving oversized deliveries, which are growing rapidly as people order more furniture and large appliances online.
Offer branded deliveries, better experiences, and performance insights – Many shippers have limited insights into their delivery, and few opportunities for branding third party deliveries. 3PLs which provide a branded tracking and delivery experience and prioritize the experience with elements like accurate quotes at checkout, will differentiate themselves with both shippers and consignees. If, on top of that, they provide the shipper with delivery and customer data, they will be well positioned in today's digital logistics marketplace.
Enabling Better 3PL logistics and delivery experiences: The Challenges
None of this is new information to the logistics market. But while the opportunities behind digitizing and optimizing delivery are clear, it's not easy to facilitate the level of visibility and control which shippers are looking for from 3PLs.
Connecting everything
3PLs often participate in large ecosystems of warehouses, distribution and fulfilment centers, shippers, contractor and subcontractor fleets spread over large geographical areas. Each of these bodies generally has its own IT system and processes. Connecting all the data across the supply chain in order to understand and improve the delivery experience is no easy feat, especially when providers don't always know where the data silos are (i.e. you don't know what you don't know).
For many 3PLs, creating an integrated logistics ecosystem is the first step towards understanding and optimizing delivery operations.
Measuring & understanding performance- in order to optimize and improve sales
Do you know how often your delivery packaging rips? Or how it impacts an end-customer's return rate? What is the rate of later deliveries per driver?
If you can't answer these questions, you're not alone. Nothing brings more return business than high delivery satisfaction rate, but many 3PLs lack the capabilities for measuring the impact of delivery on the consignee's experience or return rate.
Providers must be able to benchmark and improve every step in the delivery flow, in order to ensure you're providing the services and delivery experiences expected by both shippers and consignees alike.
Optimizing Efficiency to manage costs
For 77% of 3PLs, increased transportation and logistics costs are the top cause of disruption in logistics. To create better experiences, businesses will have to find a balance between efficiency and price point. The two go hand in hand: the more efficient and cost-effective the logistics around delivery are, the more 3PLs will be able to offer the delivery services that shippers and their end-customers expect.
Keeping delivery costs down can include:
Optimizing Truck capacity – ensuring trucks are sent out filled to capacity
Optimizing Route efficiency – making sure not only that the route is as efficient as possible in order to reduce fuel and delivery times, but also ensuring that drivers can make multiple dropoffs on their run.
Improving Onboarding – the quicker drivers and dispatchers learn, and the longer they stay on, the greater the operational savings
Using 3PL software as logistics solution
Whether you take a pen-and-paper approach to managing inventory, dispatching, and routing, or boast a complex in-house management software, your logistics operations will need to quickly advance and adapt in order to capture the additional market share. If the first step is to identify your business needs, then the second is to identify the right technology to address these needs.
Any logistics technology for 3PLs should include the following:
Integration – Technology should function as a middle-man that helps your different operational systems and units to communicate with one another and perform their individual functions as part of a larger, coordinated effort.
Data-Driven Insights – Unifying and standardizing how data is measured across disparate sources (internal and external) in order to accurately understand and optimize your delivery operations cost-effectively.
Automation – Automating the delivery flows speeds up processes and creates the flexibility necessary for offering more premium services.
Delivery Experience – Shippers rely on their logistics providers to help them offer consignees standout experiences: branded deliveries and branded communications; tracked delivery, consignee feedback, shorter delivery windows, and easier returns. Good delivery orchestration software will make it easier to answer these needs and the costs around them.
Dispatcher and Driver Retention – The right 3PL software provides solutions for onboarding, driver data and other tools that increase efficiency and retention rates for drivers and dispatchers.
The Digital Opportunity: Doing more, with less
The relentless focus on customer experience has set a new bar for shippers and delivery providers. Yesterday's standards for reasonable delivery windows, times and services are no longer enough.
Carriers, 3PLs and other providers face an unprecedented challenge, which is also an opportunity: how to take the same levels of flexibility, convenience and speed presented by eCommerce, and translate it into the optimal delivery experience. To compete, providers will need to rethink their technology and adapt their delivery offerings for the digital opportunity.
Digital Opportunity article originally published on Supply Chain Game Changer on November 28, 2019.