Subscribe Here!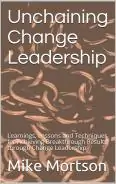 In this age of acronyms one of the terms that I have heard more of in recent years is "VUCA". In short VUCA stands for "Volatility, Uncertainty, Complexity, and Ambiguity".
It seems to be a phrase designed to capture multiple synonyms for change and chaos, or the conditions associated with chaotic situations. Disarray, turmoil, pandemonium, unpredictability, confusion, and vagueness also capture that sensation of being in an environment that is out of equilibrium in some manner.
In both the personal and professional parts of our lives we are faced with these kinds of challenges each and every day.
Let's explore more of what VUCA means and how we can better deal with these types of circumstances.
Continue reading

"What is VUCA (Volatility, Uncertainty, Complexity and Ambiguity) ?"